Cocktails: An America Story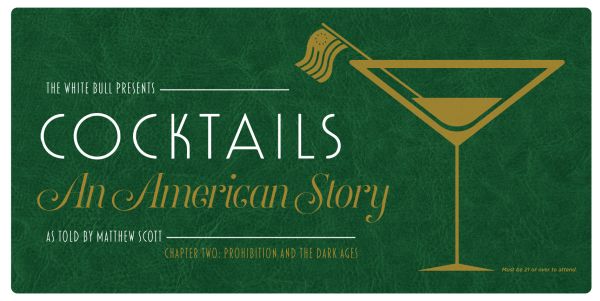 Join us as we trace the story of the cocktail and the nation that created it, from its origins in Colonial America through its refinement in the 19th century, its fall during prohibition, and its resurgence in the 2000s.
Led by Beverage Director, Matthew Scott, chapters one, two, and three will provide attendees with a detailed history of our nation's most memorable cocktail recipes, additionally offering tastes of each throughout the lesson. Choose your favorite concoction from the list and work with Matt one-on-one to recreate it for yourself.
By 1920, cocktails had reached a point of refinement and, prohibition or not, Americans were going to keep drinking. The main problem was the absence of good booze. Creative bartenders developed recipes to mask the poor quality hooch they had access to (French 75 or Bees Knees). Some bartenders left for friendlier shores, finding new ingredients to work with in Europe (Last Word). Post prohibition tipplers, perhaps spurred by their newly regained right to imbibe, developed a love to the hair of the dog (Corpse Reviver No. 2). Decades later, GIs returning from WWII popularized European inventions (Negroni). Boomers settled down into a scotch and soda life, while Gen Xers were drawn to the decadent and suggestive (Sex on the Beach). Finally, we'll look at the first step out of the darkness in 1988 (Cosmopolitan).

*Must be 21 or older to attend. 
WHEN: Saturday November 17th from 12:30 PM to 2:30 PM
TICKETS: $55.00 per guest*