Wine vs Beer Exclusive Pasta Dinner Event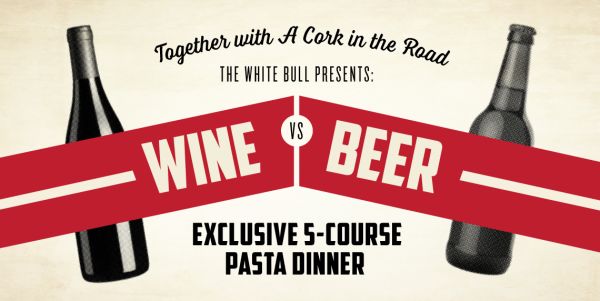 Kelly of A Cork in the Road presents another round of signature Wine vs Beer beverage battle event with an exclusive five-course dinner at The White Bull. A wine enthusiast and experienced tasting consultant, Kelly designed this special format to help guests define their personal food pairing preferences in a fun, approachable way. Join us as her beer-savvy husband goes head to head with Atlanta's reigning "Somm Smackdown" blind tasting champion, Sommelier Kacey Ivey, in five rounds of beer and wine pairings with White Bull dishes. While the battle should squash the "wine vs beer" debate once and for all, guests can expect to come away with a deepened understanding of the flavors, smells, and styles of wine and beer that they prefer most. Join us for the showdown!
To learn more about Kelly and her Wine vs. Beer adventures as A Cork in the Road, visit www.acorkintheroad.com or follow @acorkintheroad on social media.
WHEN: Tuesday March 19th from 8:00 PM to 11:00 PM
TICKETS: $55.00 per guest