Feast of the Seven Fishes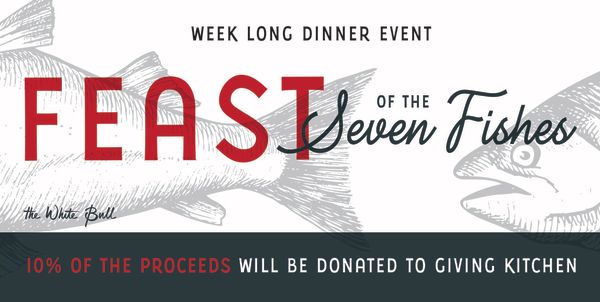 Buon Natale!
Join us at The White Bull for our first ever week-long dinner event, Feast of the Seven Fishes! Beginning Monday, December 16th through Monday, December 23rd, we'll be offering our own version of the traditional Italian-American Christmas Eve dinner alongside our regular menu. The even better news? 10% of all proceeds will be donated to The Giving Kitchen Initiative, an Atlanta-based nonprofit organization that provides financial assistance to those in need within the local restaurant community. Nothing spreads holiday cheer quite like the act of giving back, so swing by The White Bull to partake in this special event while you're at it!

Although the origin and significance behind Feast of the Seven Fishes is still up for debate, this celebrated Italian custom revolves around a delicious multi-course dinner mainly comprised of fish and other fresh seafood from the briny deep. Typically held on "La Vigilia," or Christmas Eve, this meatless feast is intended to bring family and friends together in celebration of the holiday season. While our seven-course prix fixe menu represents many of the meal's traditional elements, in true White Bull style, we'll be putting our own spin on things—something you won't want to miss.
But what's with all the fish, you ask? We'll break it down for you.
Although Feast of the Seven Fishes is perhaps more widely celebrated among Italian-American families than those of the Old Country, it's no secret that fresh seafood is a staple in Italian cuisine. With the Adriatic, Ionian, Tyrrhenian, and Mediterranean Seas surrounding the boot of Italy, the majority of the country's 20 regions have access to fresh "frutti di mare," largely influencing the Italian diet. But not only does geographic location play an important role, longstanding religious tradition does as well. The act of eating fish on Christmas Eve dates back to the Roman Catholic custom of abstaining from meat and other animal products on holy days—Christmas included. And while many Italian-American families serve anywhere from seven to thirteen dinner courses, it's believed that the lucky number seven refers to the seven sacraments of the Catholic Church, the seven hills of Rome, the seven days of creation, and so on.
But all religious symbolism aside, at its core, the Feast of the Seven Fishes is an opportunity for family and friends to come together this holiday season. Celebrate at The White Bull by making your reservation with us today!
To learn more about The Giving Kitchen Initiative and all the great work that they do, click here.
WHEN: Monday December 16th from 5:00 PM to 10:00 PM
TICKETS: 7 courses / $85 Per Person / $55 Wine Pairing